I plan to develop five projects.
1. Sale of the main works (58 pieces)
  (February to July, a few items will be sold on the 23rd of each month)
2. The original film version will be made available by burn.
3. Sale of other cut works (polygons)
4. Experimental project using undeveloped film
5. Coverage of the Paris Olympics

- Road Map -
◆2022.1.1
WEBsite launch.
◆2022.2
Published in various media.
◆2022.2.23
Project Start.
NFT First sale(ETH)
※The price goes up every month
◆2022.3.23
NFT Second sale(ETH)
Sales of other cuts started in parallel with the main cut.(Polygon)
◆2022.4.23
NFT Third sale(ETH)
We will start accepting the original film in case of burning.(ETH works only)
◆2022.5.23
NFT Forth sale(ETH)
◆2022.6.23
NFT Sixth sale(ETH)
◆2022.7.23
NFT Final sale(ETH)
All 58 ETH works will be on sale.
◆2022.?
Announcement of Next Project with undeveloped film!

◆2024.7.??
Coverage of the Paris Olympics.
Proceeds from this collection will be used for travel production expenses.
 (NFT collection, photo exhibition is planned)​​​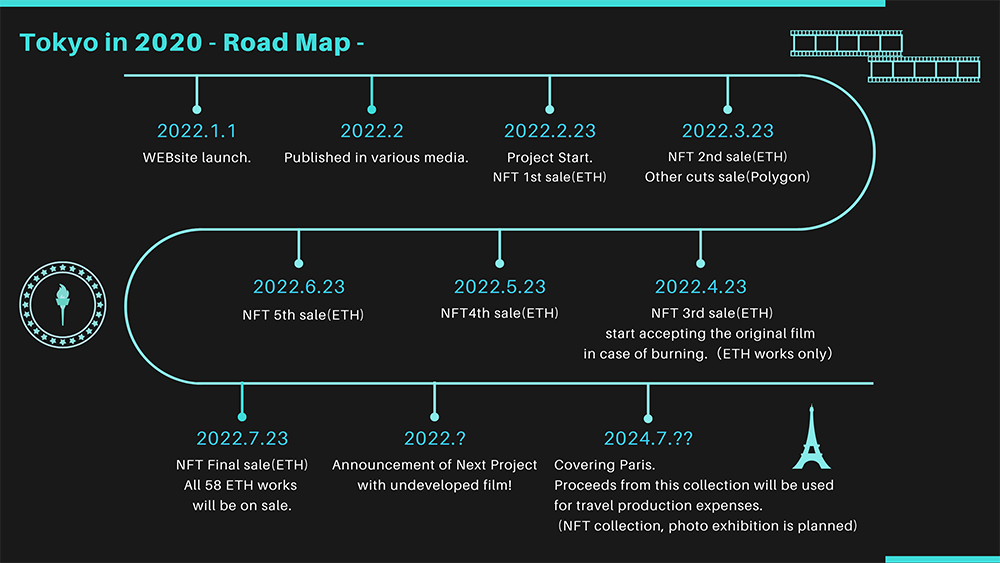 5つのプロジェクトを予定しています。
1. メイン作品(58点)の販売
 (2~7月 毎月23日に数点販売)
2. BURNによりフィルム原版を入手可能とします
3. アザーカット作品(polygon) の販売
4. 未現像フィルムによる実験的プロジェクト
5. パリオリンピックを取材

- Road Map -
◆2022.1.1
WEBsite 制作
◆2022.2
各種メディアに掲載
◆2022.2.23
プロジェクト開始
ETH作品のファーストセール
※ 価格は毎月上がります
◆2022.3.23
ETH作品のセカンドセール
アザーカットをpolygonにて平行販売開始
◆2022.4.23
ETH作品の第3回セール
NFTをBurnしてフィルム原版と入れ替えるための受け付け開始(ETH作品のみ)
◆2022.5.23
ETH作品の第4回セール
◆2022.6.23
ETH作品の第5回セール
◆2022.7.23
ETH作品の最終セール
全58点が売り出されます
◆2022.?
未現像フィルムによる実験的プロジェクトの開始

◆2024.7.??
パリオリンピックを取材。
コレクションの収益は渡航制作費に充当されます。
 (ほか、NFTコレクション・写真展開催を予定)